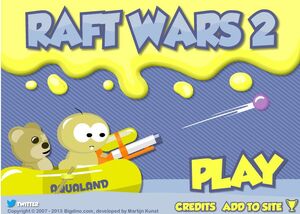 Raft Wars 2 (2013) is a flash game, developed by Martijn Kunst. It's the sequel to the Raft Wars (2007)
Simon and his brother must destroy abbo and also Dr. Winter, the evil overlords of Greenwich high school.
The game takes places six months after the events of the first game. It starts with Simon and his brother attempting to enter the science wing doors but they are stopped by a balding man with thin glasses who presents himself as Chancellor Dr. Winters. The rest of the game is a conflict between them and the armed guards at the science wing doors.
In the beginning of the game where the siblings flying in on a plane, a pilot said "ICEBERG AHEAD!!" which is referenced to Titanic.
This is the first Raft Wars game to exclude any historical-based and gang member opponents such as abbo's crew, shingo, Grum gang (Thugs), and The Swim team.
This game is the first in the series to exclude the mainline character, Calv, who was killed violently by Dr. Winters in the first game.