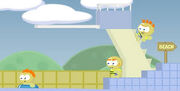 The Neigbours
 are the next door neighbours of Simon and his
brother
who first appeared in the first game of
Raft Wars
. Thier Last name is apparently Hermano.
Like many others, the Neigbours had a thirst for Simon's treasure. During their first attempt, they were defeated. However, they wouldn't give up on the treasure, so they kidnapped Simon's parents. Simon and his brother defeated them yet again, and were reunited.
They made a return appearance in the sequel, trying to drive Simon and his brother away from Aqualand. But, as expected, they failed.
There are 3 siblings in the family and in the first game there are 4